ACTT
-
A
Student
Focused
Agency
-
April
2016
ACTT's Students Caravan – Providing Information to Protect Stakeholder Investment in Higher Education

Michael Bradshaw and Daryl Steele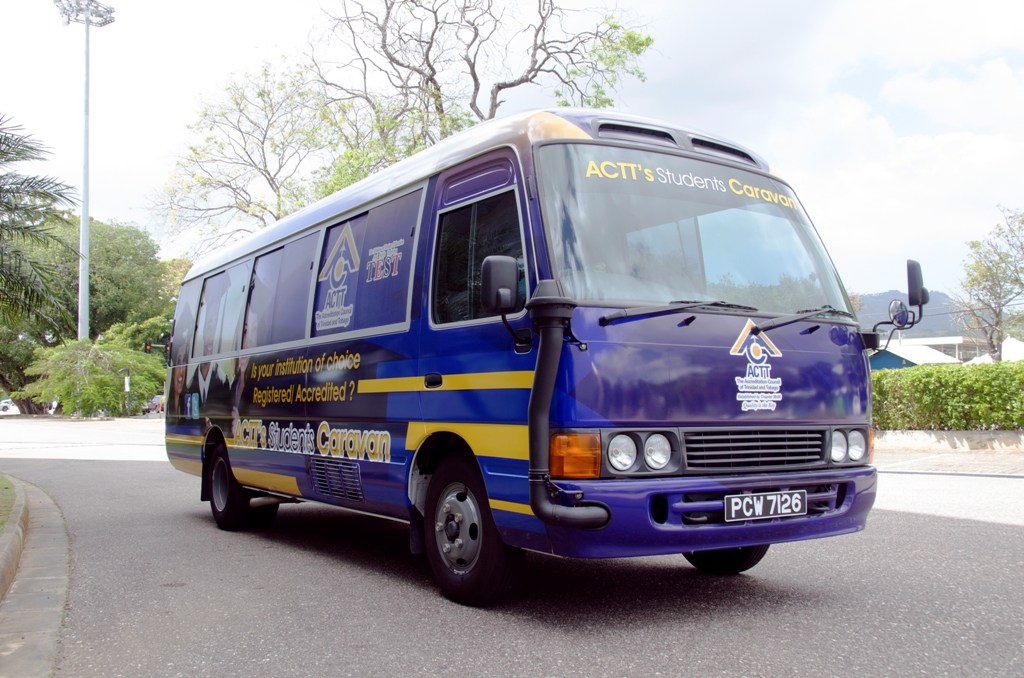 In light of the increased incidence of fraudulent virtual colleges and universities internationally, to which potential students are falling prey, The Accreditation Council of Trinidad and Tobago (ACTT) is mindful of the need to provide stakeholders with accurate information on quality higher education and training. ACTT believes that the provision of such information is essential to sound decision-making in selecting higher education institutions or programmes of study and to the protection of stakeholders' investments.
As part of ACTT's public education programme, the 'Students Caravan' initiative was formally launched in 2011. This is an outreach service designed to educate communities on the importance of quality higher education. Equipped with technology that facilitates video and oral presentations by ACTT's staff, the Caravan travels to remote areas to make the Council's services more accessible to students throughout Trinidad and Tobago.
Students are exposed to the hazards of diploma mills and are provided with guidelines on how to identify them. Advice is also given on the benefits of verifying the status of institutions and programmes before embarking on further study. They are informed that ACTT issues Statements on Recognition, which document the quality assured status and recognition of institutions and programmes. Students are also guided to refer to ACTT's online Compendium of Registered, Accredited and Recognised Institutions, Awarding Bodies and Programmes, should they wish to study in Trinidad and Tobago.
Since the inception of the Students Caravan initiative, ACTT has visited over seventy (70) secondary schools and institutions as well as several communities across both our islands. ACTT views itself as responsible for protecting the interests of students in the post secondary and tertiary education and training system and remains committed to its awareness drive.