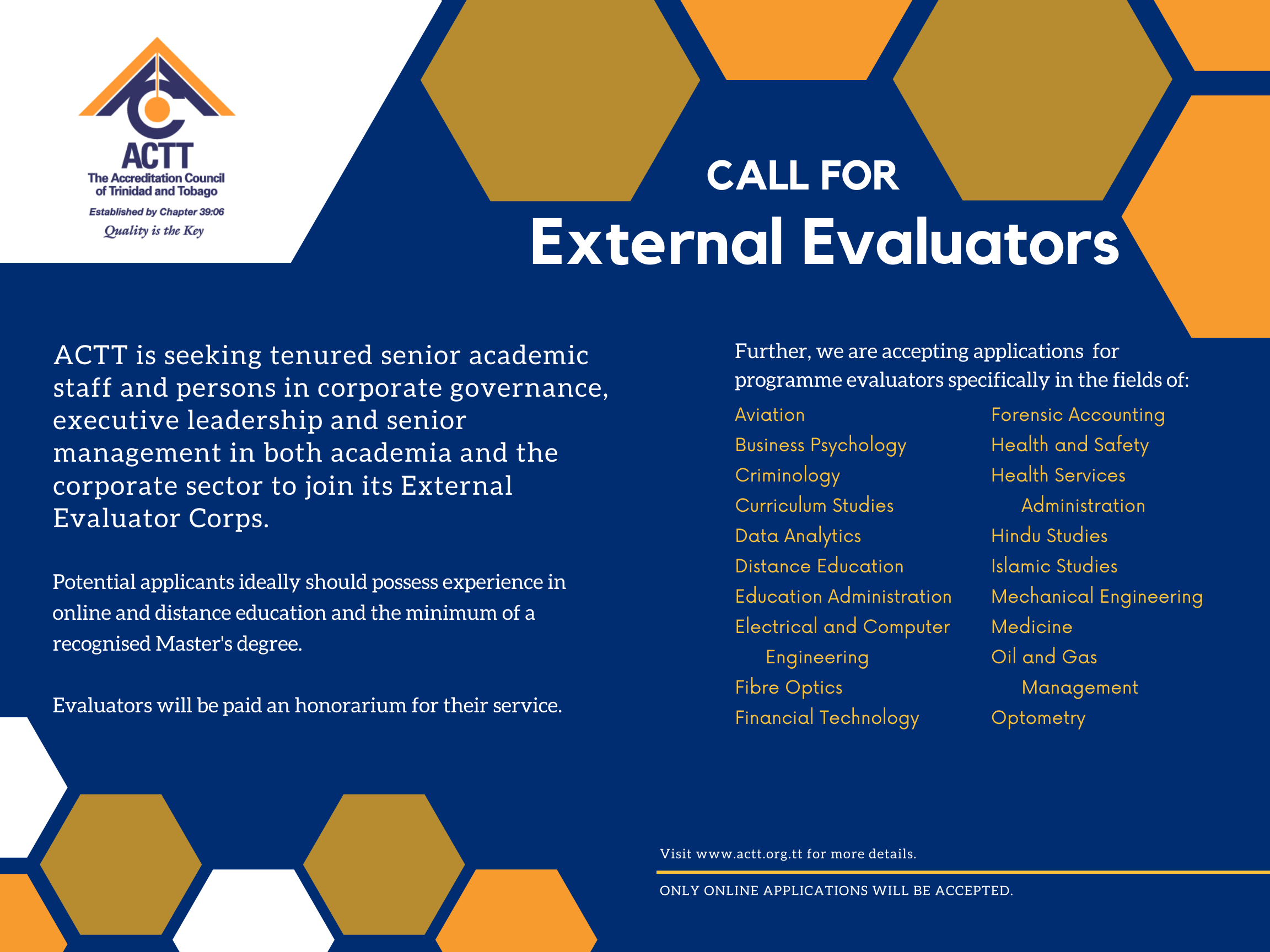 RECRUITMENT
OF
EXTERNAL
EVALUATORS
The Accreditation Council of Trinidad and Tobago (ACTT) is dedicated to the advancement and enhancement of post-secondary and tertiary education and training. We apply a peer-review methodology in quality assuring the sector and, as such, require independent Peer Evaluators. These professionals maintain the integrity of the process and ensure that ACTT's standards are upheld. ACTT is accepting application for institutional and programme evaluators.
We are accepting online applications for programme evaluators from individuals with a minimum qualification of a Masters degree in the following programme areas:
Technical and Vocational Education and Training
Air Conditioning
Cosmetology
Message Therapy
Academic
Aviation
Forensic Accounting
Business Psychology
Health and Safety
Criminology
Health Services Administration
Curriculum Studies
Hindu Studies
Data Analytics
Islamic Studies
Distance Education
Mechanical Engineering
Educational Administration
Medicine
Electrical and Computer Engineering
Oil and Gas Management
Fibre Optics
Optometry
Financial Technology
Additionally, we are accepting applications for institutional evaluators. Ideal applicants are tenured senior academic staff, as well as those in corporate governance, executive leadership or senior management positions in either academia or the corporate sector. Related evaluator experience or tertiary-level teaching experience, especially in blended or online learning, will be an asset.
Persons are invited to submit online applications during the period July 27 to August 31, 2020. To be considered, each applicant must submit the completed External Evaluator Data Form via this link. Applicants must possess a suitable combination of qualifications, specialist skills and sector/industry experience.
For further information, please contact us at evaluators@actt.org.tt.
We welcome your support of the development of quality in higher education and look forward to the expansion of ACTT's External Evaluator corps.