ACTT
Welcomes
New
Board
of
Directors
2010
-
2012.
2010
LEADERS MEET...CHARTING THE WAY FORWARD FOR CONTINUED QUALITY ASSURANCE IN TERTIARY EDUCATION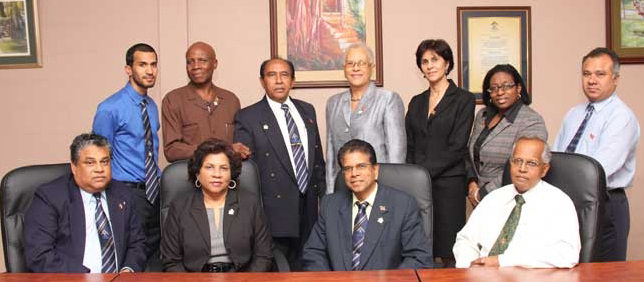 Sitting From Left to Right: Michael Bradshaw, Executive Director (Ag.), Jane Murray, Corporate Secretary; Dr. Michael Dowlath (Chairman); Azim Ali - (Deputy Chairman). 
Standing From Left to Right: Rodney Amar; Mervyn Extavour; Hatim Gardner; Dr. Joycelyn Rampersad; Veena Badrie-Maharaj; Lennon Ballah-Lashley; Dr. Bheshem Ramlal. 
On Wednesday 8, December 2010, the Minister of Science, Technology and Tertiary Education, Senator The Honourable Fazal Karim, was present at the first meeting of the Board of Directors of the Accreditation Council of Trinidad and Tobago (ACTT) to distribute the instruments of appointment. In his welcome remarks, he stated that ACTT was an important part of the development of higher education in Trinidad and Tobago and, by extension, the socio-economic development of the country.
The Minister reiterated the importance of ACTT's role as "....the eyes and ears of tax payers' dollars that are invested in the Government Assistance for Tuition Expenses (GATE) Programme," which is at present being expanded to include technical/vocational education and training (TVET). He further reminded members of the Board of Directors of the importance of compliance with the Integrity in Public Life Act, and stressed that all members should strive to work as a family and follow proper protocol. He also encouraged the Board members to be committed to their role of guiding the organisation into a new way of thinking and to be innovative and, above all, ensure trustworthiness.